Your accommodation in Anterselva: friendly, comfortable and welcoming
Our three holiday apartments differ in size, allowing you to adapt your stay to your individual space requirements. In both apartments on the second floor we have installed new hardwood floors in the living areas and in the bedrooms for added comfort. You have the choice between a comfortable apartment of 85 sqm, which is perfect for a large family or a holiday with friends, and our smallest apartment with 35 sqm, which offers the perfect holiday accommodation for up to three persons. Each apartment has a balcony, where you may start the day with a relaxing breakfast and stunning views of the mountains in the Dolomites.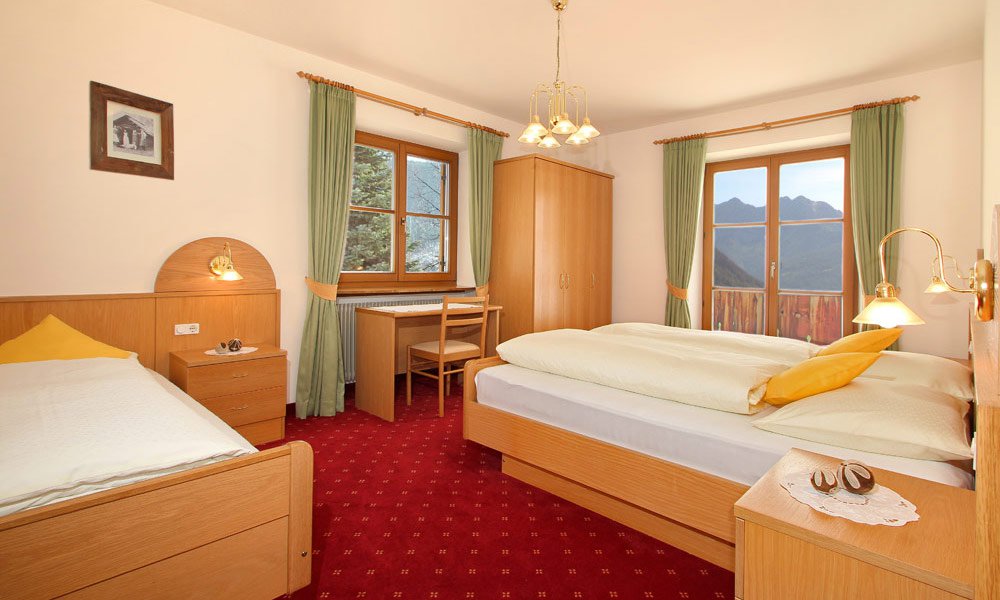 Or you may round off the evening with a good glass of wine and enjoy the serene atmosphere and breathtaking scenery. For those who even during the holidays do not want to give up modern media, we offer Internet access in the apartments – This way you may tell your folks back home about the relaxed and unique atmosphere of your accommodation in Anterselva. All apartments are equipped with a television set and a cosy living area, where on rainy days you may watch TV.
We thought about everything!
As self-catering guests you will have the opportunity to prepare your own meals in our holiday apartments. In order to avoid annoying housework during your holidays in the vacation rentals in Anterselva, you will find a dishwasher, as well as a microwave for quick meals and snacks. There is also a washing machine, in case your kid's favourite t-shirt gets dirty while playing and romping, and you need to wash clothes. Bed linen, bath towels and tea towels are of course available.
Here you find our price list!
Book your holiday with us right here!
Which one do you prefer, shower or bathtube?
The bathrooms in the holiday apartments are equipped with a shower – The largest apartment even features a comfortable bath tub. This way you may enjoy a fresh start into your vacation day full of new challenges during your stay in Anterselva, or in the evening indulge in a relaxing bath and remember the experiences of an exciting vacation day in our region.
Your children will feel perfectly at ease in the apartment in Anterselva, since your holiday home upon request can be equipped with a cot or high chair.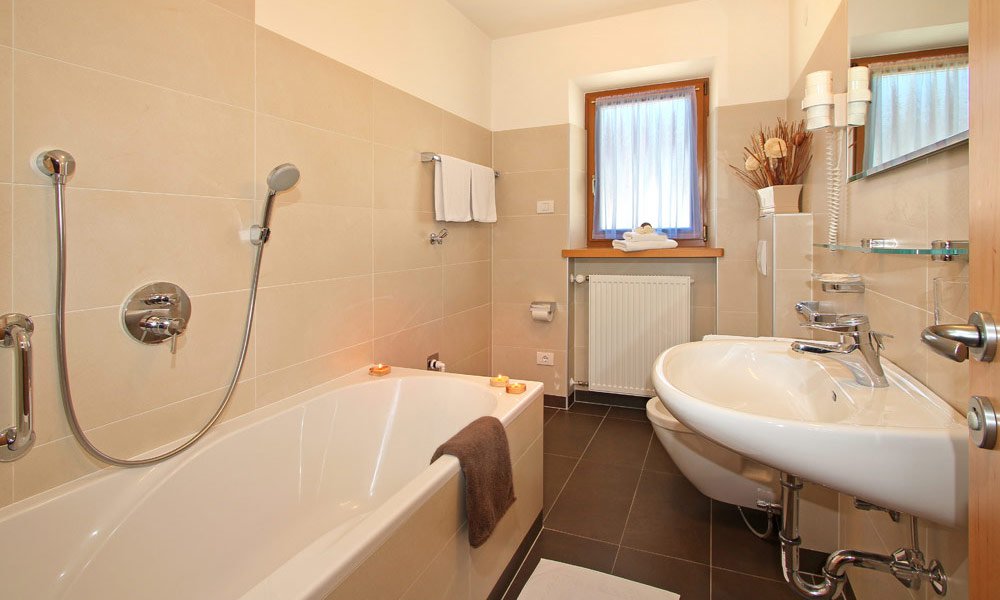 Your well-being is really important for us!
In front of the house, there is the farm's private playground with swings, a slide and a sand box. Furthermore, toy tractors are available for the small guests on our farm.
After all, for us the needs of your children are just as important as the satisfaction of the parents. The entire family will simply feel fantastic during the entire stay and can enjoy time together. Thanks to our spacious parking area, guests can park their car next to the house. During the winter months, a ski boot dryer and a ski rack are available.